Greer Scholarship winners named
Mountain Vista, Brighton journalists take top honors in tough competition
Lauren Irwin, senior at Mountain Vista HS, and Lead Design Editor for all VistaNow media, from print to online, is our 2018 Dorothy Greer Scholarship winner.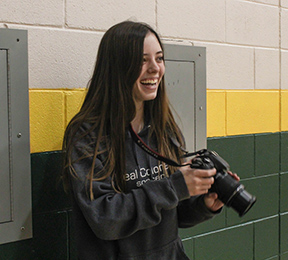 This is a $2,000 scholarship (if Lauren attends an in-state school), and Lauren's portfolio — which you can check out here — goes on to the JEA national competition for High School Journalist of the Year.
One of our three judges wrote about Lauren: Over the years I have found that our best Greer winners have had a "fire in the belly," and I feel that with Lauren, particularly in her writing. She is not afraid to put herself out there and express her opinion without being intimidated when her audience pushes back, as she did with the op-ed about the Parkland shooting, but she excels in other ways too.
Her design is innovative and eye-catching, drawing the reader to the content in unique ways. Her eye for design is matched by her eye for the right photo opportunity. When it comes to photography, she gets it. Her composition is original and makes me want to engage with the photos. She sees the unique perspective and puts herself there. Her color management is spot on. And she is versatile across a range of styles. I like her people photos the best, because she does more than just capture the moment; she seems to capture the spirit of the people too. This is seen also in her sports reaction photos.
She is highly skilled in writing, design, photography, editing, and leadership. Mark's letter particularly emphasizes her leadership skills. She is beyond competent in video editing. I'm also impressed with her presentation via her website. It showcases her well, is well-organized and easily navigated. This is not part of the judging criteria, but it certainly makes for creating the best impression of her and the depth and breadth of her talents and skills.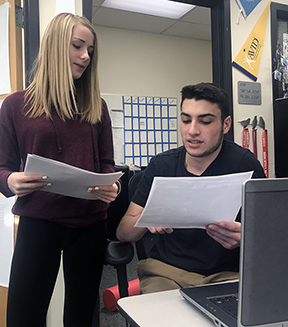 Our runner-up in this competition, which brings a $1,000 scholarship (if attending an in-state college) is William Satler, senior at Brighton HS, and Director of Digital Media and Editor of Reflections yearbook. You can check out his excellent portfolio here.
One of our judges wrote about Will: Like Lauren, he has the "fire in the belly."  I think yearbook students are at a disadvantage when it comes to this scholarship contest because yearbook is so print-oriented, as opposed to news journalism, which now appears across various platforms from print to broadcast to websites to social media.
Will has taken the initiative to break out of that mold, by incorporating video to market the yearbook, by using social media to inform the student body about sporting events and other significant school-related activities though his own website, and by aligning himself with the local newspaper The Brighton Blade and performing an important journalism role in a highly commendable way, as supported by Steve Smith, the sports editor, in his letter of recommendation for Will.
He has a strong eye for photography as well. Like Lauren he is strong in composition and in execution of photos. He has an eye for the angle.
He is a superb designer. I lingered over several of his designs and was fascinated at how he did them. I also enjoyed his time lapse of designs from conception to final execution.
His impressive list of awards and desire to learn, to grow from opportunities at conventions, and to push himself to be better and better are testament to his passion for journalism and his mastery of so many of its skills already.
I was also impressed with adviser Justin Daigle's letter of recommendation that describes Will as a change agent in the yearbook program. Can't get better than that.