Jessica Hunziker named CSMA Adviser of the Year
Castle View adviser to be honored during J-Day opening ceremony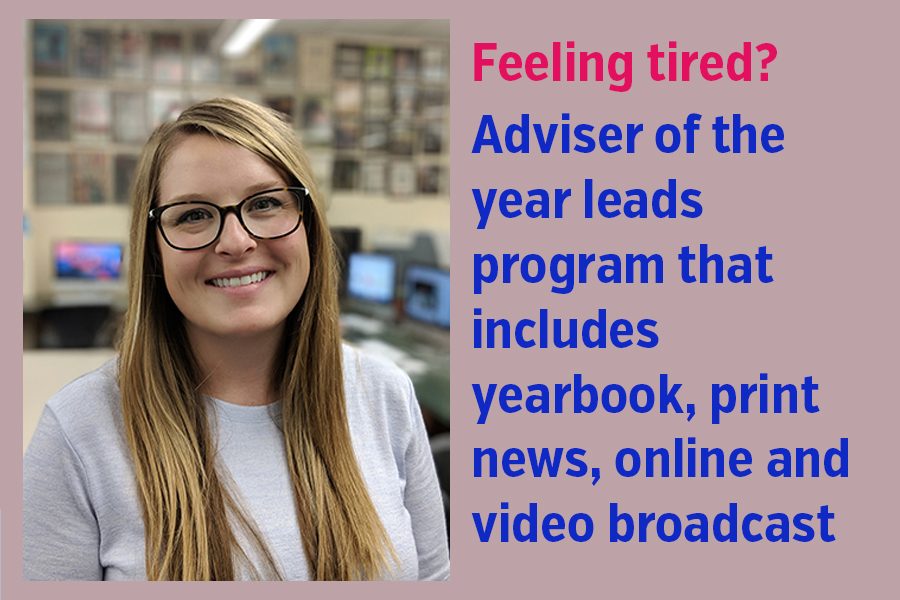 Jessica Hunziker, MJE, media adviser at Castle View HS, has been named CSMA 2018 Adviser of the Year. She will receive her award at the state journalism conference, referred to as J-Day, on Sept. 27 in the Lory Student Center at Colorado State University. She will address the expected 1,500 attendees and lead a learning session during the conference.
Jessica is a 2009 graduate of Metropolitan State University of Denver and has spent her entire teaching and advising career at Castle View, where she started in January of 2010. Her assignment there has grown to advising yearbook, print magazine, video broadcast, and online, and this year she is the English Department Lead.
"I don't know how she does it all," wrote Stephanie Rottman, a senior and Editor-in-Chief of The View magazine. "I'm convinced she must have some super power, like the ability to read really fast or slow down time."
Jessica is currently pursuing her Masters in Journalism and Mass Communications, taking online courses through Kent State University. She is the CSMA vice president/president-elect, and she regularly presents sessions at state and national journalism conferences and workshops.
Her past and present students are big fans. "She deserves this award because she is not only the prime example of what an adviser should be, but also an example of the type of friend everyone should strive to be," wrote Drew Baty, current Vieo yearbook editor-in-chief. "She has taught me yearbook skills, but more than that she has guided me to be of certain type of character, a person who understands and appreciates important virtues in life like respect, effort, and perseverance."
"Mrs. Hunziker is the embodiment of a hard worker  she is driven and passionate and refuses to give up on something until it is the best it can be," wrote Kristen Plonsky, a 2017 graduate and former editor. "What's great is that she holds the same standards to all of her students."
Her fellow advisers are equally enthusiastic about Jessica. "She is wise beyond her years," says Kristi Rathbun, MJE, adviser at Rock Canyon HS, for whom Jessica was a student teacher. "It may sound like I'm gushing, but Jess is the 'real deal.' "
"I have met few other advisers who take advantage of as many opportunities for growth as Jess does," says Adam Dawkins, CJE, media adviser at Regis Jesuit HS. "Then Jess trains her students to be journalists. They run the newsroom, she advises."
Jessica describes her role this way: "Kids matter, and so do their stories. It's the student journalists' job to tell those stories and my job to support them."
The most important thing she does, she says, is advocate for the First Amendment rights of students. "Everything else," she said, "is secondary to this.
Jessica lives in Highlands Ranch with Peter, her husband, and enjoys yoga and her monthly book club, as well as traveling to unique places around the world with Peter.