J-Day features dozens of awards, plus Best of Show
91 student media received award certificates at state conference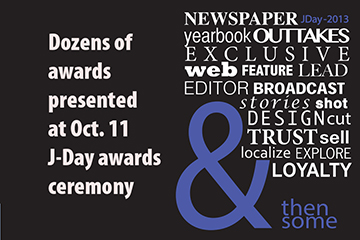 Hang on for a minute...we're trying to find some more stories you might like.
Oct. 22, 2013 – The awards ceremony that ends J-Day is always fun… a "nerd pep rally," as one adviser described it, and on Oct. 11 that pep rally took place in the Mountain Vista HS gym.
The first set of awards presented were the All-Colorado awards, with every student medium entered earning one of three achievement levels: Award of Merit, Award of Commendation, and All-Colorado. These ratings were part of the All-Colorado critique service offered to all CHSPA member student media, conducted last summer. Judging results were emailed to advisers in mid-August. All media are judged together, with no special categories for middle school or for varying enrollment sizes. The theory is that a great publication is a great publication, and everyone can strive to meet the standards of the critique.
To browse the list of honorees, please download the award spreadsheet: All-Colorado 2013 results, all media entered
Following an impromptu dance-off, performed by Smoky Hill staff as their pay-off for a bet over a recent football game with Standley Lake, we moved on to Best of Show.
Only media with students in attendance at J-Day were eligible to enter, and all entries were uploaded through our contest site. Jim McGonnell, MJE, retired adviser from Findley, Ohio, who advised nationally-recognized student newspapers and broadcasts for over three decades, judged newspaper and broadcast categories. Sara Kennedy, the 1994 Iowa High School Journalist of the Year, and how a special projects editor at the Seattle Times, judged yearbook and websites.
Websites entered the url of their site, while broadcasts entries entered one program from this school year, uploaded to a hosting site such as Vimeo or Youtube. Newspapers entered a front page and two other pages published this school year, while yearbooks entered three photographs plus accompanying captions (all to be published in the 2014 book).
Due to number of entries, yearbook and newspaper entries were divided by enrollment in to two classes: 5A and 4A/3A, and middle schools competed with their high school elders. Winners (with links to the websites and broadcasts) are below:
BEST OF SHOW 2013
Newspaper
5A
Legend / The Forum
Arapahoe / Arapahoe Herald
Rock Canyon / The Rock
Honorable Mention –  Rocky Mountain / Highlander
4A/3A (combined)
Standley Lake / The Lake
Englewood / The Pirateer
Kent Denver / Sun Devils' Advocate
Video Broadcast
Rampart / KRAM
Rock Canyon / RCTV
Montrose / Channel M
Website
Castle View / The View News
Fossil Ridge / Etched In Stone
Fairview / Royal Banner News Network
Honorable mention –  Monarch / MHS HOWLER
Yearbook
5A
Smoky Hill / Summit
Chaparral / Golden Images
Arvada West / The Claw
Honorable Mention –  Arapahoe / Calumet
4A/3A (combined)
Eaton / Eatonian
Sierra MS / Eagle Eye View
Rocky Heights MS / The Nighthawk
Honorable Mention –  Montrose / The Chief