Welcome back! and time to start planning for J-Day
Join 1,500 in the Lory Student Center on the campus of CSU Oct. 8, for a focused day of learning and celebration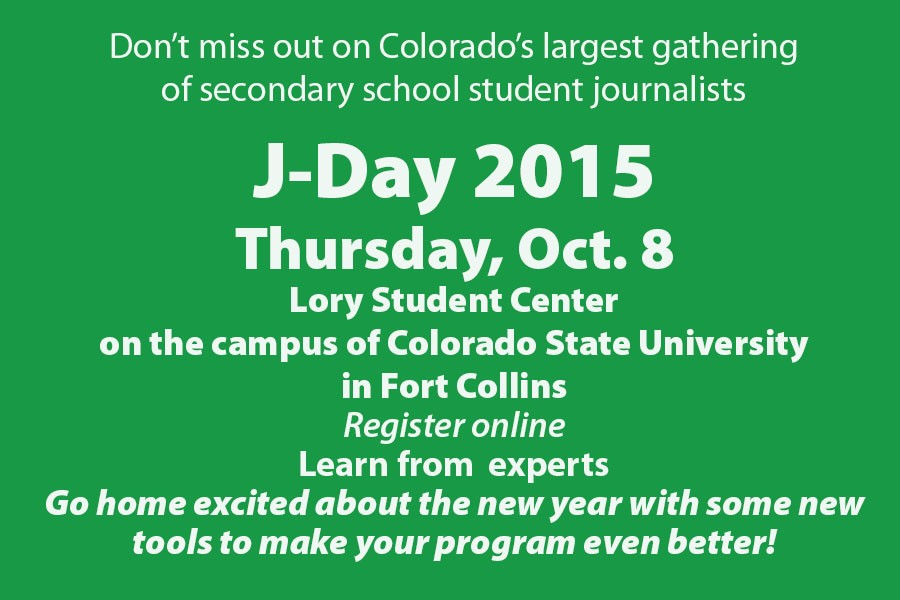 Registration for J-Day will be online, using our new form tool, or by mail/scanned form. Go here to register online, with the option to pay by credit card or send a check separately. Click here to download the interactive PDF registration form. Registration cost for students is $20, while adviser registration is $35 (which helps support the Adviser Hospitality room, with breakfast snacks as well as later snacks and beverages).
We are proud to have Colorado State University as our Opening Ceremony Lead Sponsor, and thanks to Walsworth Publishing for sponsoring the Adviser Hospitality area.
Interested in staying at the Fort Collins Hilton (across the street from the campus)? We have a block of rooms reserved for $109 (for a quad or a double) plus tax. Go here to reserve your rooms now. This offer expires after Sept. 11.
The day kicks off with a welcome ceremony at 8:45 a.m. on Thursday, Oct. 8. Then come four 45-minute learning sessions, a one-hour lunch break, and then a grand celebration and closing session at 1 p.m., featuring presentation of All-Colorado rating certificates and the announcement of Best of Show winners.
Much more information will be coming in the next few weeks.