CHSPA honors top adviser and administrator of 2014 at J-Day
Adam Dawkins selected as Adviser of the Year, and John Veit takes Administrator of the Year honor
CHSPA Adviser of the Year 2014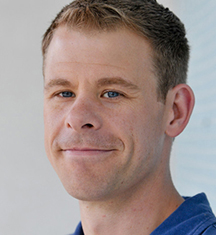 Adam Dawkins, CJE, is our Adviser of the Year. Now in his tenth year at Regis Jesuit HS, and in his sixth year working with student media, Adam is CHSPA vice president/president elect. He is also active at the national level of the Journalism Education Association, serving on several committees, and he has profoundly influenced Colorado advisers and student media through his work creating and growing the CHSPA Press Law & Ethics Certification program, now with a dozen certified advisers and a strong curriculum.
Adam began his teaching career at Eaglecrest HS before returning to his alma mater to teach English a decade ago. As Karen Slusher, CJE, wrote: "Little by little, Adam become more and more involved in high school journalism, attending the Summer Adviser Workshop, making personal connections, and growing his passion for advising." Just four years ago, he was invited to run for CHSPA board office, and he served two years as Advocacy Coordinator before becoming president-elect.
As a private school adviser and teacher, Adam enjoyed a unique position in helping public school advisers and students. He had no allegiance to a district and so could provide support without some typical ramifications. While doing that work, he was rapidly expanding the student media program at Regis Jesuit, first in the boys division, adding Journalism 1 and 2 to the program and convincing the school to give English elective credit to the Advanced Journalism courses. In 2013-14, he expanded his advising to the girls side, and the school now has a girls' side magazine and broadcast course, complementing offerings in the boys division.
As a snapshot of the quality of the program Adam has developed, the news website RJToday.com was named Best of Show website at J-Day on Oct. 9, and the girls division magazine "Pulse" won Best of Show for 5A news publications. To add a bit of drama and rivalry, the boys division magazine "Ignite" earned second place in Best of Show.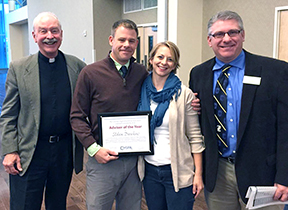 The energy Adam brings to student media helped the school decide to include a brand new, state-of-the-art media classroom suite, complete with broadcast facilities, as part of the school's Performing Arts Center, which opened last February. Several administrators praised Adam's work in researching and visiting top facilities in the area so the new facility would be the best of its kind.
Regis Jesuit HS Boys Division Principal Alan Carruthers wrote that "Adam is passionate, personable, and committed to improving high school journalism not only at Regis Jesuit, but has also shown his commitment to journalism programs across Colorado. He is determined to protect the rights of free by respectful speech and the ability of students to cover the activities and topics that impact their lives."
The selection committee unanimously agreed with Carruthers, and CHSPA is proud to honor Adam Dawkins with its top award.
CHSPA Administrator of the Year 2014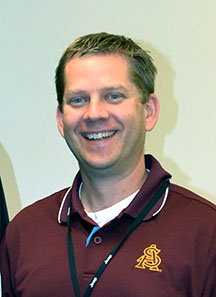 One of the themes that runs through John Veit's career in the Douglas County School District, whether as an Apple Award winning teacher at Castle Rock Middle School, in his multimedia and publishing classes there, and in his relatively brief administrative career at Rocky Heights Middle School in Highlands Ranch, is his support of student media.
Scott Melanson, who led the nomination effort for Veit, noted the importance of John's mentorship when Scott took on yearbook advising just a couple years ago. Melissa Larson from Mesa Middle School wrote that she would not have survived her first few years as a yearbook adviser without Mr. Veit's generous support. I'm pretty certain that means that three of our state's top middle school student media programs owe much of their success to one man, our honoree.
He may not be in the classroom every day anymore, but students at Rocky Heights still manage to sing his praises. Sanjana Nandy wrote last spring that having an administrator willing to travel with the staff to Boston for last fall's national journalism convention was a surprise. Sanjana listed the many ways Mr. Veit took care of details, from rooms to food, to making sure no one got lost on the T-line transit system.
Veit is part of an effort to take a large group of Rocky Heights students to Washington, D.C., in November. He knows this sort of trip is about far more than learning about new design trends and how to better market the yearbook.
Principal Mike Loitz can testify to the yearbook program here having a clear "before and after," with a vast improvement he directly credits to Veit's leadership. Of course, connecting talented advisers to creative, passionate students… that is important as well.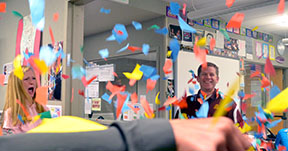 Whatever the magic formula is,  it is not common. Rocky Heights is lucky to have such a dynamic, supportive voice for students as part of its leadership team.
John received his official trophy on Oct. 9, in Fort Collins during J-Day, but his award certificate was presented on Aug. 29 at Rocky Heights in a surprise event that included administration, students. and district personnel.