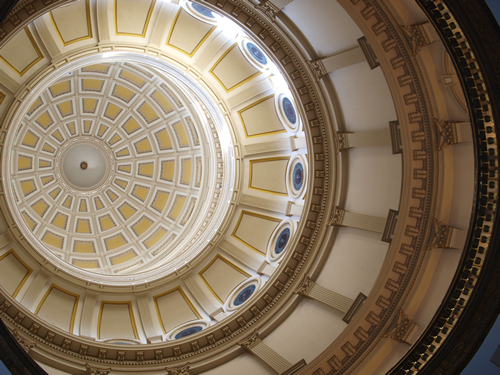 A CSMA tradition since 1982, the Capitol Hill Press Conference brings students and advisers to the capitol to meet their representatives, quiz a range of speakers, and even compete in several coverage areas.
All registrations are done online, using a form that asks for student names (which can be changed, if necessary). Please register just as soon as you have your basic numbers, though the final deadline is Friday, Feb. 23.
Our formal schedule for Monday, Feb. 26, 2018:
11 a.m. – Welcome and overview of the day
11:10 a.m. – Megan Schrader, editorial writer, The Denver Post, will lead us through conversations about reporting, generating great questions and current issues in she believes student media should be covering.
Noon -12:30 p.m.- Colorado Commissioner of Education Dr. Katy Anthes discusses state education issues. She was officially appointed in December of 2016 by the Colorado State Board of Education,but has worked at CDE since 2011 in various roles.
11:40-1:15 Rep. Barbara McLachlan (D) Durango and Rep. Jim Wilson (R) xxx are members of the House Education Committee, and will field questions about legislation they have co-sponsored, about future legislation, and about working "across the aisle" for better public policies. a public health expert, with insights into the state of healthcare in America, and its future. She was appointed by Gov. John Hickenlooper in 2016, to serve out the remainder of Joe Garcia's term.
Approximately 1:15-2:45 p.m. – CHPC Competitions. There are four, and students may enter as individuals or as teams, and schools may have multiple entries. Each student, however, may enter only ONE. These contests are completely voluntary, and entries may be published locally, in student media, as well as on the CSMA site. The two writing competitions are "on-the-spot" contests, with stories submitted via email, USB drive, or pen on paper not later than 2:45 p.m. on Feb. 26.
News-Feature Writing – on-the-spot, composed after the final press conference, with only 90 minutes to write. May be on any aspect of the day at the capitol, from press conferences to tours to time meeting one-on-one with legislators. Due to time constraints, we recommend a tight focus.
Commentary Writing – on-the-spot, composed after the final press conference, with only 90 minutes to write. Focus should be on some issue that is part of the day, whether that issue is discussed in the press conferences or in the legislature's normal business. The best commentaries grow from reporting and the audience should be Colorado high school students.
Photojournalism – a portfolio (or photo essay, if you will) of 4-7 photographs from the day. Each photo must be accompanied by a caption. Photojournalists may use time after the press conferences to report for those captions. The portfolio must be submitted (usually through Dropbox or some similar means), along with a Word document with the captions, not later than 11:59 p.m. Wednesday, Feb. 28.
Broadcast feature – a video on any aspects of the day at the capitol, no longer than two minutes, with the prime audience being high school students in Colorado. The video must be uploaded to YouTube, Vimeo, or some similar service and the link submitted not later than 11:59 p.m. Wednesday, Feb. 28.
All submissions must be sent to [email protected] by the contest deadline. Judges will choose place winners and certificates will be mailed to winners' schools by March 15. Top entries will be posted on our website.
Options for your day at the state capitol
Meet with (and perhaps interview) your legislators. Contact them to set up times. We recommend doing this NLT Feb. 19. Not sure who your legislative representatives are? Go here.
Observe the legislative process from the balcony or on the floor (if invited by your representative). The House is in session beginning at 10 a.m. One bill on the agenda (as of Feb. 15) is HB18-1046 – New Birth Certificate To Reflect Gender Change – sponsors: Rep. D. Esgar, Sen. D. Moreno
Tour the Colorado State Capitol building. If you have a group of 10 or less, you may join any public tour the day of your visit. Free public tours are offered hourly 10 a.m.-3 p.m., and are about 45 minutes in length (so you could make the 10 a.m tour and still have time to get to our event). For more information or to include a larger group, check this page.
Observe the House Education Committee meeting, beginning at 1:30 p.m. (This would be an option if you are not participating in either writing contest.) Our final two speakers will be attending this meeting, which means we can't keep them beyond the scheduled time. This is in the basement, room #HCR 0112.
Observe other committee meetings. Check here.