Advisers can earn press law and ethics certification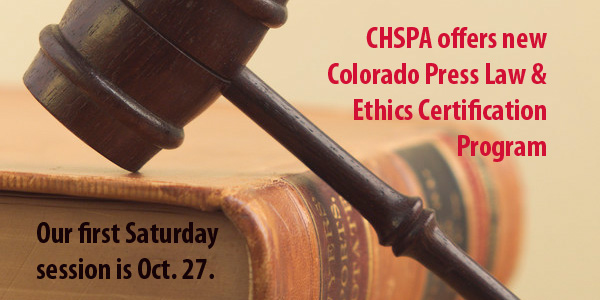 Take a look at an opportunity to add state certification to your resume, to your official file, and to your classroom. CHSPA is offering a Colorado Student Press Law & Ethics certification program to any Colorado adviser interested in the program.
Take a look at the informational flyer produced by lead instructor Adam Dawkins, of Regis Jesuit HS, and the CHSPA Advocacy Coordinator. You are invited to join us at the School of Journalism and Mass Communication at CU-Boulder on Saturday, Oct. 27 for the class work required. No charge for the day. We even provide lunch.
Contact Jack Kennedy at [email protected] to register (not later than Oct. 23, please). Contact Adam Dawkins (his information is on the flyer) for more details. And be sure to check out the Summer Adviser Workshop link on our website to get an idea of the many links, teaching units, and lesson ideas available to you.
Successful completion of the classwork, a project, and an online test will earn you this special certificate. We hope all Colorado advisers will seriously consider this professional growth opportunity in the near future.
And we will be coming to Colorado Springs in March, so if that is a more convenient location, look for more information early in the new year.