A lesson that never gets old:
all news is local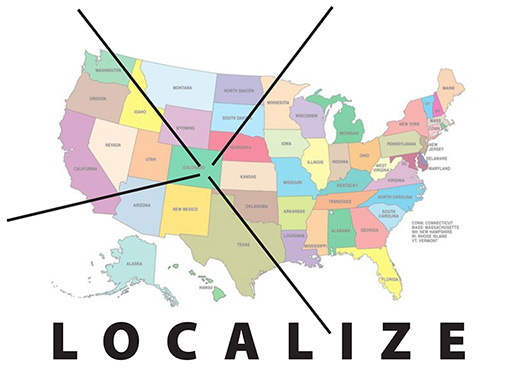 by Jack Kennedy, MJE
Sometimes the news is so overwhelming, so all-encompassing, that we just want to shut off our devices and eat ice cream. That may be the way student journalists are feeling right now.
But here's the thing: one job of the student media is to connect readers/viewers with school and district officials. Another job is to help convey student opinion on proposals. A third job is to represent our students by "speaking" on their behalf.
It may seem like a distant illusion right now, but the 2020-21 school year will be here, in some form, in 100 days, depending on when students report back to campus. I guarantee you that superintendents and principals are researching, discussing, arguing, planning, and revising plans for the new school year and what it might look like. They are doing it RIGHT NOW, and that is smart.
Something I CANNOT guarantee? That students are involved in important roles in all this planning for the near future.
I came across a national story this morning from The Washington Post that starts like this:
"From the White House podium to harried homes, pressure is building to reopen the nation's schools. But the next iteration of American education will look far different from the classrooms students and teachers abruptly departed last month.
Many overwhelmed school systems remain focused on running remote education that was set up on the fly. Others, though, are deep into planning for what they see coming: an in-between scenario in which schools are open but children are spread out in places where they are normally packed together."
It's a big story, about a big nation, and the reporters did what they could to interview superintendents, legislators, governors, and even the rare student, but let's face it: each district and each building will present its own challenge and no national story can come close to addressing your community's need for information and ideas.
And that's where student media comes in, with its wealth of on-the-ground reporting and interested (self-interested!) journalists.
There's an old saying that "all politics are local," and the same is true about student journalism. If it's not localized, why print or post at all?
But that doesn't mean we can't find all sorts of TREND stories that can spark localized reporting. So this post includes a PDF I put together that combines the ideas from across the nation that the Post included, and adds some sample questions and comments that might lead students to localize this "big trend story."
Here is the three-page handout, complete with the original Washington Post story.
Thinking deeply about what students would prefer to find at school in about 100 days needs to start now. Call school leaders. Read widely. Ask peers what they think and about questions they have about a school year we never imagined just a few weeks ago. Check out our Quick Hits post on how to organize for investigative reporting. Don't delay.
Student journalists have a unique opportunity to provide leadership, to make the voice of the students heard. But if you wait until July to start this work, you will already have missed the chance. Superintendents are planning NOW and can't afford to wait to find solutions to the challenge the pandemic presents. I don't have the answers. I am not even sure what the situation will be in three months. Who does?
But solutions will be offered and plans will be put into place. I'm just suggesting that student journalists can be part of the planning.
In fact, they SHOULD be. How will your staff proceed as our schools take on what could be the biggest challenge to education in our lifetimes?