Spring deadlines delayed
July 15 is tentative new deadline for all 2020 CSMA contests and critiques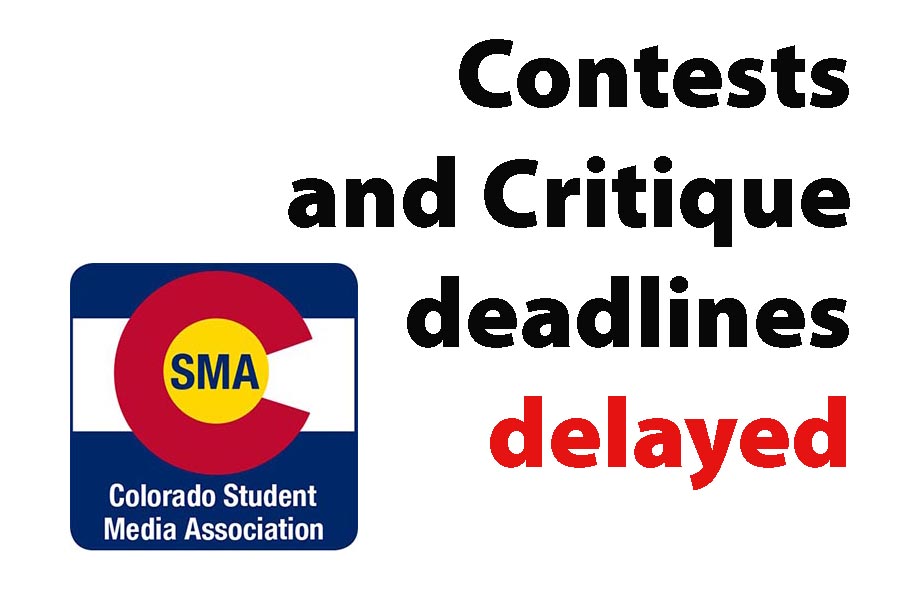 After considering a range of opinions and options, all of them thoughtful and valuable, the CSMA board has decided to move our spring contest and critique deadlines to summer. The most likely due date is July 15 (particularly if normal school operations do not resume this school year). The board will make a final decision as to the deadline date based on rapidly evolving state and federal orders.
These contest and critique deadlines include:
Best of Colorado Awards (individual contests – formerly due April 7)
Reporter of the Year
Designer of the Year
Middle School Journalist of the Year
Photographer of the Year
Broadcast Journalist of the Year
Eric Benson Scholarship (formerly April 15)
All-Colorado Critiques and Awards (formerly June 4 – there is discussion about print news publications uploading PDFs rather than printed versions, with the decision TBA)
Any entries to Best of Colorado already submitted will remain in the contest database and do not need to be resubmitted. The contest window will simply remain open through the new deadline, so you can upload entries at any time.
The board is aware that these delays will disappoint the Class of 2020, which is already feeling lost in the chaos of the pandemic, but feels that the delay best accommodates schools that cannot access needed files, as well as schools finishing the 2020 yearbook and many student media continuing to publish online.
We will be working with our large pool of judges to get results back to schools as soon as practical, but our assumption is that critique results may not be back until September.
As with many things this spring, stay tuned. The only constant is change.