ONE DAY winter coverage challenge draws wide range of entries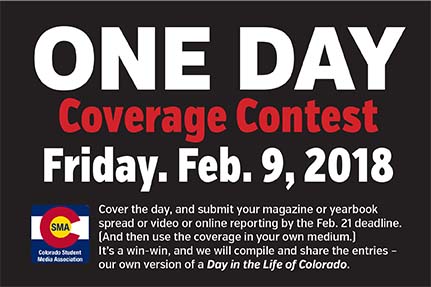 Hang on for a minute...we're trying to find some more stories you might like.
Placewinners in the first-ever CSMA ONE DAY Winter Coverage Challenge include 7 schools among 18 total entries in the various contest categories.
The contest challenged student media programs to focus on one day in the life of their school community – Friday, Feb. 9, 2018 – and to share their reporting on that day. Taken together, the coverage shows a fascinating picture of a typical school day in Colorado. Contest rules were left wide open, and different student media chose very different ways to cover the day. Some focused on a big event on campus, some took us into their communities, and some mixed news and opinion. Taken together, it's a fun trip.
Entries were submitted online, and judges included Jim Rodenbush, adviser to The Collegian, and Greg Luft, chair of the Department of Journalism and Mass Communication, both at Colorado State University.
All place winners receive an award certificate, plus all first place winners had a $50 donation in their name given to the Student Press Law Center.
The winners:
Large School Yearbook (Check out all the spreads by going to our ISSUU ONE DAY stack.)
1st Place – Aerie, Mountain Vista HS
2nd Place – Vieo, Castle View HS
Small School Print News (Check out the spread by going to our ISSUU ONE DAY stack.)
1st Place – The Devils' Advocate, Eagle Valley HS
Large School Print News (Check out all the spreads by going to our ISSUU ONE DAY stack.)
1st Place – The View, Castle View HS
2nd Place – The Eagle Eye, Mountain Vista HS
Large School Online News
1st Place – RJToday, Regis Jesuit HS (Check out some of the online stories from Regis Jesuit filed that day here, here, here, here, here, and here.)
2nd Place – VistaNow, Mountain Vista HS (Check out some of the online stories from MVHS filed that day here, here, here, here, here, and here.)
3rd Place – Orange & Black News, Grand Junction HS (Check out some of the online stories from Grand Junction filed that day here, here, here, here, and here.)
4th Place – Grandview Chronicle, Grandview HS (Check out some of the online stories from Grandview filed that day here and here.)
Palmer HS
Large School Video Media
1st Place – Terror TV, Palmer HS
2nd Place – VistaNow, Mountain Vista HS
VistaNow
Other video entries (and all are worth a look):
Cimarron MS 
Rampart HS 
Castle View HS 
Doherty HS 
Fountain Fort Carson HS