Our board members help shape the future of scholastic journalism in Colorado! Please read below to learn more about this year's candidates.
Patrick Moring
Running for: Vice President/President Elect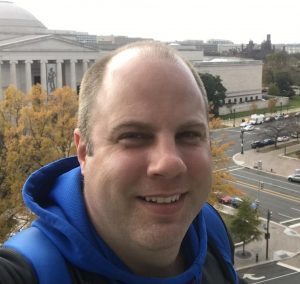 Bio
Patrick Moring is in his 13th year as the advisor of the award-winning KRAM broadcast program at Rampart High School. He has a sincere belief that student journalists are powerful storytellers that become better people by becoming better journalists. During his tenure at Rampart, his KRAM students have won a Broadcast Pacemaker award from the NSPA, multiple NSPA Best of Show awards and student write-off awards at the national level, and a host of awards for the program and the students in the CSMA All-Colorado and Best of Colorado contests. Patrick was recognized as the journalism advisor of the year by the CSMA two years ago, as well as a Special Recognition Broadcast Advisor of the Year by the JEA. He also keeps a Dundee award trophy on his desk and has an unhealthy Star Wars obsession, but his wife and kids still love him so he is cool with it.
Goals
I believe is that the mission of the CSMA has always been one of making our student journalists in the state of Colorado powerful advocates for their school communities. My goals have always been to see Colorado student journalists grow their programs and their abilities to tell powerful and impactful stories that matter. I want to see Colorado Student Journalism emerge from the pandemic stronger and better equipped to cover their schools as well as pursue careers as journalists. My ideas include providing advisers continued and expanded support options, bringing J-day back to an in-person event as soon as it is safe to do so, and continuing the CSMA's strong tradition of encouraging and educating our student journalists in the pursuit of excellence.
Anastasia Harrison
Running for: Secretary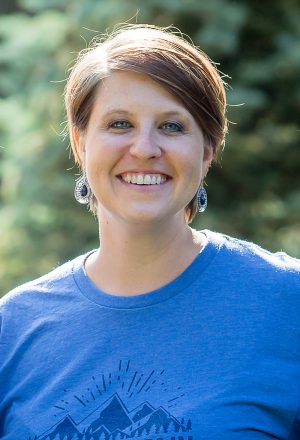 Bio
I have been advising for 16 years. I started at Ponderosa High School and then moved to Legend High School in the 2011-2012 school year. In 2005 I was honored as a JEA Rising Star and in 2016 I was honored as CSMA Adviser of the Year. My student's work has garnered a NSPA Pacemaker Award, multiple NSPA Pacemaker Nominations, as well as multiple CSPA Silver Crowns and CSMA All-Colorado Critiques. I currently advise Yearbook and a News Website. I have advised for yearbook, newspaper, and online. My students have been honored with awards such as placing in NSPA's Designer of the Year contest as well as Best of Show. My staffs and I are currently working as a combined class on all things journalism.
Goals
I have been a part of CSMA's board in years past, and I feel like now I am ready to be involved once again at the state level. I would like to be secretary in order to help not only with organization records, but to also help with public relations for CSMA. I studied public relations in college, so I feel capable and qualified to help with CSMA public relations. As secretary, I would also volunteer to serve on sub-committees, support the board in decisions made, and offer help with my years of advising experience. My goals are to maintain accurate records, continue any work the board has started, and support new advisers with any educational needs. I think it is important that CSMA continue networking opportunities for advisers through happy hours and adviser workshops. I look forward to continuing to develop student media in Colorado by collaboratively working with the members of the board as well as advisers in CSMA membership.
Ben Reed
Running for: Advocacy Coordinator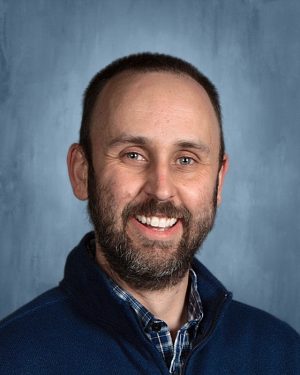 Bio
I have advised media programs since 2007 at two different schools across two different districts. From 2007-2015, I advised The Lake newsmagazine and online media programs at Standley Lake High School in Jeffco. One of the proudest accomplishments of The Lake was raising awareness of school safety concerns in the face of administrative blockades. The students' reporting led to districtwide changes in policies and procedures. The magazine won the NSPA Pacemaker in 2014, was named a Pacemaker finalist in 2016, and was inducted into the CSMA Hall of Fame in 2017. For the past four years, I've advised the newsmagazine, broadcast, online media, and yearbook programs under the banner of MoHi Media at Monarch High School in Boulder Valley. The magazine and yearbook have been named All-Colorado by CSMA for three straight years, and the magazine was named an NSPA Pacemaker finalist in 2020. I have also been a presenter/teacher at the Rocky Mountain Journalism Camp, the Jostens Fall Workshop, and J-Day for many years.
Goals
The First Amendment stands as a beacon for our democracy. It allows the fourth estate to hold those in power in check, and to inform the citizenry of the truth in our world. In ways perhaps never before seen in this country, the rights guaranteed in the First Amendment are under attack. As Advocacy Coordinator, I will work to uphold the rights journalists in schools and the advisers who help guide those journalists in order to shine light and truth on all aspects of our work. The First Amendment and the Colorado Student Free Expression Law allow students in our high schools the voice to act as real journalists. As an adviser, I have guided students to find this voice and challenge authority and social boundaries when it has been necessary to do so. I have helped students both in my school and at other high schools work closely with the Student Press Law Center on numerous occasions to protect their rights and to make ethical decisions. I also offered my testimony to the Colorado legislature in 2020 to make necessary revisions to our state's free expression law to protect advisers. These experiences give me the necessary qualifications to promote and uphold the rights of students and advisers for CSMA. Students need a voice in their schools and deserve the opportunity to ask important questions of the adults in charge of their education. Media programs allow students those opportunities. As Advocacy Coordinator, I will work to ensure every student is heard and every adviser is protected when guiding their students' voices.
Matt Varca
Running for: Education Coordinator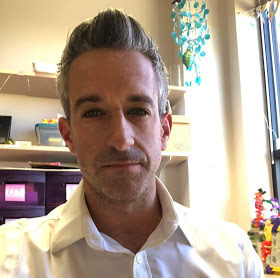 Bio
I have been advising student publications for 11 of my 14 years of teaching. Over those 11 years, I have been a part of a lot of innovation with those publications. In my fourth year of teaching, I helped open Islands High in Savannah, GA where I served as English Department coordinator and had task of creating the school's first yearbook staff to help establish their first student-run publication. I have spent the past seven years overseeing student publications at Grandview High in Aurora. For all seven years I have served as Newspaper adviser where, in my third year, the students and I taught ourselves WordPress so we could move our publication online. In my fifth year, I was asked to help build a Broadcast Journalism program which has grown to have enough students to provide weekly announcements and feature shows, as well as live-streaming of sports and plays so our community can watch Grandview's sports and performing arts.
Goals
My interest in running for this office is to become more involved with the statewide community of advisers. I believe I have learned a lot in my years of advising and would love to share that education and learn from other advisers in the state. As one of those English teachers that was baited into advising, I understand what it is like to feel like you're on an island searching for ideas of how to teach journalism. From my experience, I have learned the importance of collaboration and, as Education Coordinator, I would work to help create collaboration among advisers to create a wealth of best-practices for advisers and students throughout the state. In terms of ideas, I'd like to create opportunities for advisers to meet and collaborate as well as get editors and staffs to collaborate throughout the state, perhaps with some sort of partnership between advisers and staffs.
Lyndsie Riggs
Running for: Digital Media Coordinator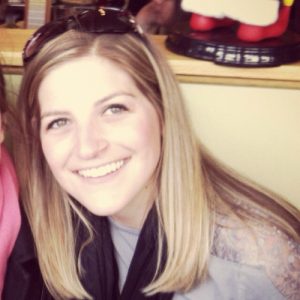 Bio
Hello, fellow journalism educators! I am Lyndsie Riggs, and I am the Broadcast Journalism adviser at Cherokee Trail High School. I received my Broadcast Journalism degree from CU-Boulder, my teaching licensure/English certification from Metropolitan State University, and my master's degree in Educational Leadership from Regis University. After I received my first teaching job at Castle View High School, I was quickly tasked with revitalizing and rebuilding the broadcast program. I advised CVTV for two years before I transferred to CCSD. Cherokee Trail High School did not have an existing broadcast program, so alongside my co-adviser, Tina Barber, we created a broadcast journalism program and a Communication Arts pathway four years ago. In the first year of the program, my amazing student journalists created an award-winning publication, and they continue to work hard to provide our southeast Aurora community with important visual storytelling content. I also teach English 10 and Intro to Video Production at CTHS.
Goals
The level of support I received from CSMA and other advisers across Colorado was imperative to my growth and development as an adviser. Together with the CSMA Board of Directors, I simply want to provide advisers the opportunity to share ideas and resources in order to advance and inspire the journalism programs in our state. My goal is to collaborate with advisers to enhance their digital platforms and support their online programs. I look forward to serving our hard-working advisers and student journalists!
Gina Claus
Running for: Middle School Coordinator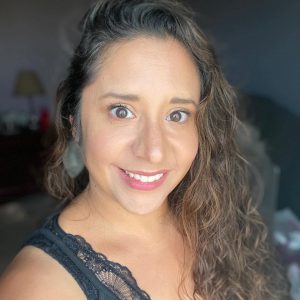 Bio
GINA CLAUS moved to Colorado from East Los Angeles, California. She studied digital design and dance at Loyola Marymount University. After moving to Colorado in 2002, she continued her education in psychology, with an emphasis in school counseling at the University of Phoenix, Lone Tree. Her dream of becoming an educator came to fruition in 2004 when she began teaching applied technology at Thunder Ridge Middle School. Missing a design aspect in her life, she transitioned to teach digital media and yearbook at Castle Rock Middle School in 2015. Since entering the yearbook world, her staff has earned two NSPA Pacemaker nominations, two CSPA Silver Crowns, five consecutive years of All American, All Colorado ratings and other individual state awards. She also received recognition as a 2018 JEA Rising Star.
Goals
It is with great enthusiasm that I submit my application to return to serve on the Colorado Student Media Association board as the Middle School Coordinator. My interest in serving on the CSMA board stems from my passion for the middle school student and for providing valuable opportunities for growth and leadership to educators of the middle school level. My goal is to grow a collaborative community of middle school educators with the purpose to support each other's programs and professional development.