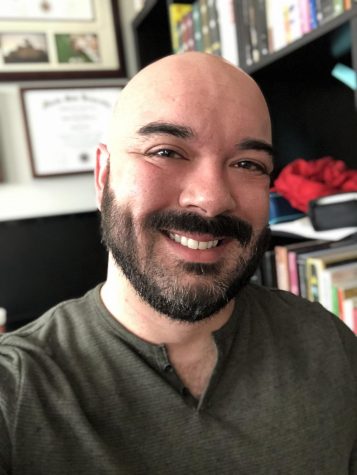 Sergio Luis Yanes, CJE
Sergio Luis Yanes, CJE, comes from a family of journalists and graphic designers. He has been teaching since 2006 and advising student media since 2011. He currently teaches and advises the news site, broadcast, and yearbook programs at Arvada High School. He also instructs at camps and workshops around the country, including national conventions. Yanes has been involved as a JEA curriculum leader, focusing on differentiation for gifted/talented populations. He has also worked with his district (Jeffco) to develop and refine CTE pathways for journalism programs in order to incorporate convergent media and to provide students with more professional experiences, such as college credit, work-based learning experiences and career-related certifications.
 Candidate statement:
"The First Amendment guarantees the most important of our liberties: a free and open exchange of ideas. These rights have been additionally secured for our students, thanks to the Tinker case and Colorado state law. However, we cannot ignore the many silenced voices in our schools. Voices that are directly and indirectly pushed down and marginalized to limit the free and open exchange that is vital in maintaining a pluralistic society. As educators, facilitators and advisers, it is our responsibility to ensure that our students have the opportunities to share their voices in an equitable manner. This means not only defending our students' rights, but also preparing our students to defend themselves and others.
"I intend to keep finding and sharing ways to provide a more equitable experience for student journalists. From national initiatives to skill-building techniques, we need chances to stay current on the conversations surrounding the Five Freedoms. We need to work to remove barriers because our students also deserve to feel like they can be heard. It is important that we continue to provide them ways to access all the opportunities that are available in the world of journalism and protected by our First Amendment. By doing so, we can keep promoting diversity within a field that, now more than ever, needs as many voices as possible to inform, to challenge, to question and to explore further."