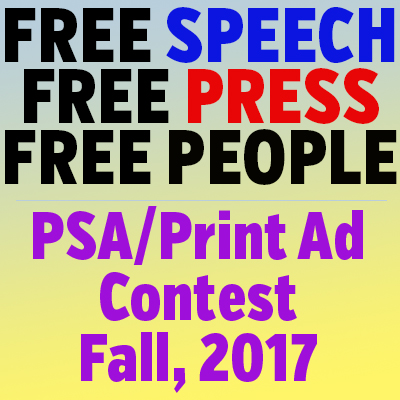 Last year our special fall contest grew from FEARLESS, and we hope you and your staffs will continue to be fearless in reporting and leading the community.
This year we are sponsoring a contest highlighting the First Amendment, and the Five Freedoms it promises our nation. Of course, a promise is not a guarantee, and each generation, each year, needs reminders of those freedoms and how to protect them, as well as use them to create an ever-more perfect union.
Your students have many options, from 30- or 60-second original video PSAs, to short podcasts, to print ads, to staff editorials supporting some aspect of the First Amendment in your community.
CSMA member media will be eligible to enter this fall contest (the final deadline is Dec. 5, 2017), and the top entries will earn vouchers to attend CSMA events in 2018. Last year, Rangeview, Palmer Ridge, and Eagle Valley high schools each earned a $300 voucher. This should be YOUR year.
Go to our online form to get more details and to enter this new contest.
We hope you will publish your work for your own community, and we will publish as much as we can through CSMA online platforms. Winners will be announced in early 2018.